---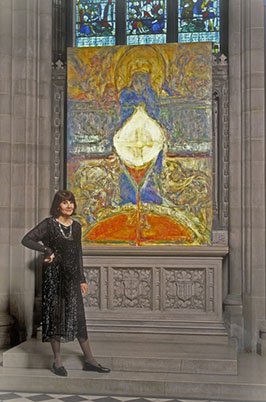 Barbara Lawrence was born in West Palm Beach, Florida. At the age of two, she moved with her parents to New York City, When she was a very young girl, she moved with her mother and brother, Fred, to an apartment at 817 West End Avenue. Although she lived in and traveled to many different places over the years, that address was always the safe haven for her heart and soul. She grew up, went to college, and was married there. And she came to live there for the last fifteen years of her life.
Barbara attended Columbia University after her graduation from high school in 1948. For a brief time she worked as a fashion reporter for Women's Wear Daily. In 1951 she married Marshall Lumsden, and together they had three daughters — Amy, Jane, and Abigail. She had always been interested in art, and when the family moved back to New York from Atlanta, she began to paint in earnest, studying the "light effect" approach to oil painting at the Red Barn studio in Ridgewood. She became adept at still life, portraits, and landscapes. After a move to Southern California in 1965, and a divorce in 1972, Barbara's approach to painting became deeper and more intensely personal. She returned to school to earn a Masters degree in Fine Arts at UCLA in 1975.
In 1993, following the death of her brother, Barbara returned to 817 West End Avenue. She continued to be a prolific painter, and became an artist-in-residence at St. John the Divine Cathedral where her work was exhibited until ill health forced her into inactivity.
In life she was as vivid as the paintings she produced — vivacious, arresting and full of humor and mystery. She will be missed by her daughters, grandchildren, nieces, and nephews, and her many devoted friends.
Biography written by ex husband Marshall Lumsden
---
Education:
1955 — B.S., Columbia University. New York City, NY
1965-69 — Santa Monica City College. Santa Monica, CA
1969-72 — U.C.L.A. Extension. Los Angeles, CA
1972-75 — M.F.A. University of California. Los Angeles, CA
Honors Received:
1973-74 Alfred Orselli Memorial Scholarship
Exhibitions:
-Santa Monica City College Art Gallery. Fall, 1973
-M.F.A. Degree Exhibition. Paintings. 1975, June 15-29, Frederick S. Wright Gallery, U.C.L.A. in Los Angeles.
-Rio Honda College, Los Angeles. Paintings. October 1987
-The Cathedral of St. John the Divine, St. Savior's Chapel, New York City, NY
Exhibition of Paintings 1977-1990. February, 1991.
-The Cathedral of St. John the Divine, Crusader's Bay. 1996-97. New York City, NY
Permanent Exhibit:
"Hear the Womb to Comfort Me".
Oil painting on canvas, 96″ x 70″.
The Cathedral of St. John the Divine, St. Savior's Chapel, New York City, NY
Teaching Experience:
Everywoman's Village, Los Angeles, California, 1984-86
Professional Credentials: Community College Instructor Credential – Life